Law Offices of Geoffrey D. Mueller Helps Secure Dismissal of Multi-Million Dollar Breach of Contract Claim - Multicultural Radio Broad. Inc v. Korean Radio Broad. Inc. (Case No.: 2:15-cv-01961)
Thursday, April 6, 2017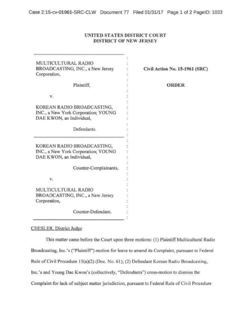 Per The New Jersey Law Journal, summarizing Judge Chesler's opinion:

Plaintiff Multicultural Radio Broadcasting Inc. brought this diversity action against defendants Korean Radio Broadcasting Inc. (KBR) and Young Dae Kwon for breach of contract and other state law causes of action. Plaintiff filed a motion for leave to amend. Defendant moved to dismiss the complaint for lack of subject matter jurisdiction. Plaintiff is the licensee and operator of WWRU-AM 1660, a radio station in New Jersey. KBR is a producer and broadcaster of Korean language radio programing in the metropolitan area. Young owns and manages KBR. In November 2013, plaintiff and KBR entered into a time brokerage agreement. Plaintiff commenced this action in March 2015, asserting that defendants failed to make payments due under the agreement, ceased transmission of KBR's signal to AM 1660 in violation of the agreement and published false advertisements that AM 1660's broadcast signal was of inferior quality.

Plaintiff asserted diversity jurisdiction claiming plaintiff is a New Jersey corporation and a citizen of New Jersey and defendants are citizens of New York. In May 2016, defendants raised, for the first time, an objection to the court's subject matter jurisdiction. Defendants contended that plaintiff's principal place of business is in New York and complete diversity is therefore lacking. The court found that plaintiff failed to meet its burden of showing that diversity jurisdiction, pursuant to Section 1332 exists.

Plaintiff's proposed amended complaint asserted a new federal cause of action and a new basis for subject matter jurisdiction. The court found plaintiff's motion was not authorized by Section 1653. Plaintiff's original complaint only alleges state common law causes of action. Plaintiff may not, by motion, create retroactive subject matter jurisdiction through the addition of a federal cause of action. Plaintiff's motion for leave to amend was denied. Defendants' motion to dismiss was granted.